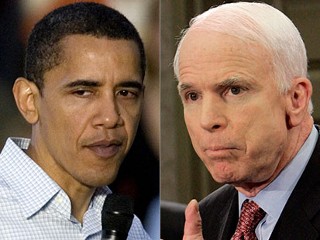 The Associated Press has released a stunning
poll
, which shows that McCain has closed the gap in the presidential race to a mere one point.
Ever since the Lehman Bros. implosion, Obama has led in all major polls. But last week, many polls suggested that the race contracted a bit, although results from earlier this week again reflected a large lead for Obama. In addition to the close AP poll, today's
GWU Battleground survey
shows a two-point race. In most polls, however, Obama has a very comfortable lead.
In the AP poll, McCain's gains were primarily among white middle-class voters. Perhaps McCain is experiencing "Joe Mo'." But the presidential election is a state-to-state race, and a majority of the polls show Obama leading in most of the swing states. Despite Obama's persistent lead in the swing states, Democratic Governor Charles Rendell of Pennslvania has urged Obama to return to the state, along with Bill Clinton, and McCain has committed a lot of resources to winning Pennsylvania. These facts have caused some analysts to question whether the Hershey state is tighter than the polls demonstrate. Pennsylvania has voted for the Democratic contender in each election since 1988, but Kerry only won the state by 2.5% over President Bush. A surge of new Democratic registrants, however, bodes very well for Obama.